The Bronx is Building
BY C.J. HUGHES • [The New York Times] – MARCH 3, 2017
Photo Slideshow: Affordable Housing Boom in the Bronx [credit: Elias Williams for the New York Times]
Download Printable Version of the article [pdf]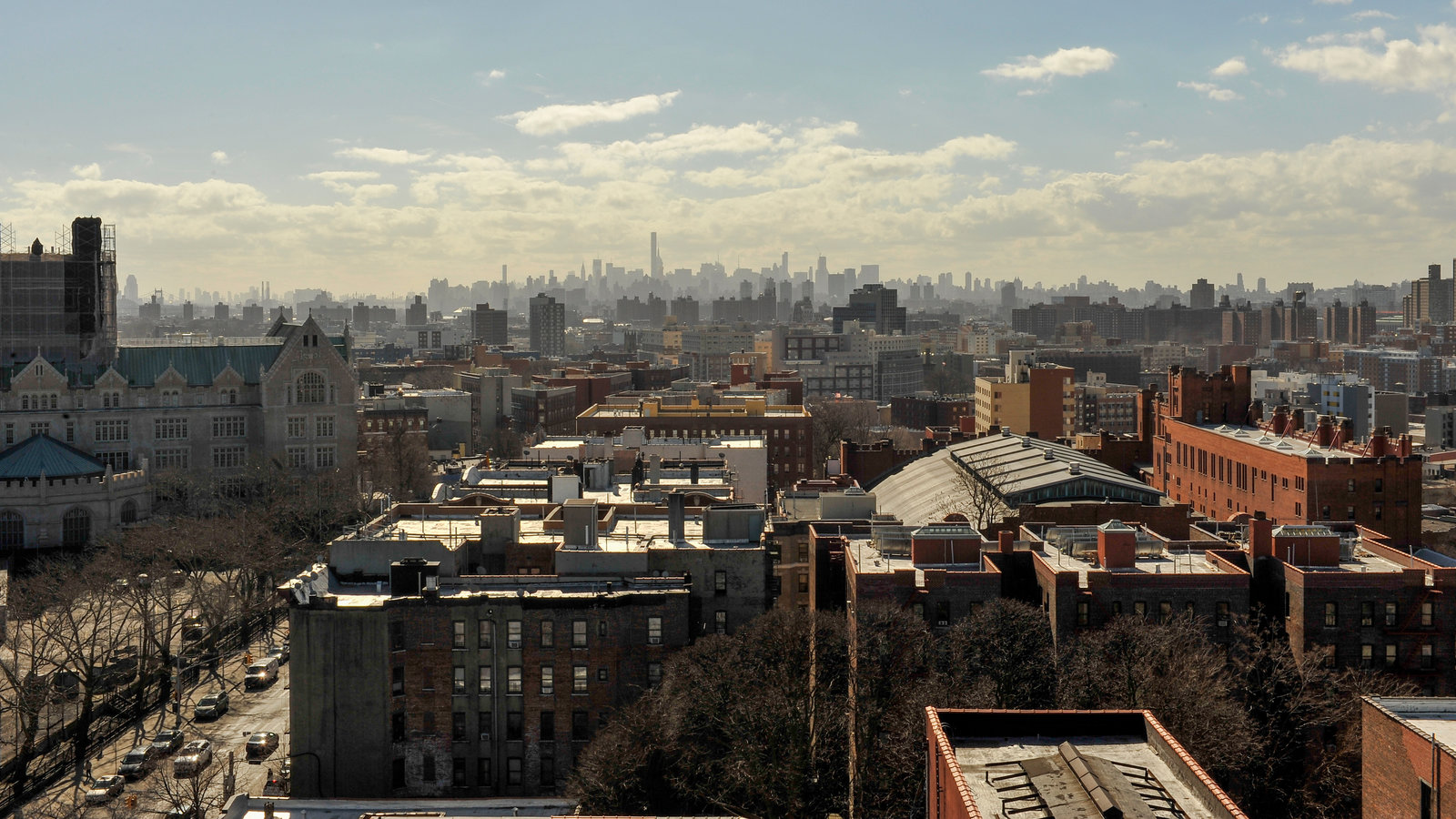 On parking lots, rubbly plots and the occasional community garden, the Bronx seems awash in new apartments.
New market-rate housing is still pretty scarce, and most of what is rising are apartments priced as affordable housing, aimed at those who can't pay market rates. Across the South Bronx, in a miniboom, several thousand affordable rental apartments are under construction or planned, according to developers, brokers and city officials.
Fueled by a growing population, new government policies and relatively cheap land, they add, these developments seem far more sophisticated than many that came before. Like their free-market counterparts, they're arriving with shops and restaurants, rooftop farms and concert halls, and, their supporters say, are taking the revival of once down-and-out areas to another level.
"It makes me happy to be alive, to take stock of all this," said Carole Lamberg, the former executive director of the Settlement Housing Fund, a nonprofit that has developed about 8,700 affordable apartments, many of which are in the Bronx, since 1969, when Ms. Lamberg joined the firm.
"There's very little abandonment left, and that's a good thing." said Ms. Lamberg, 77, who is at work on "Hardly a Failure," a book about some of her developments. "I always thought the Bronx had such wonderful potential."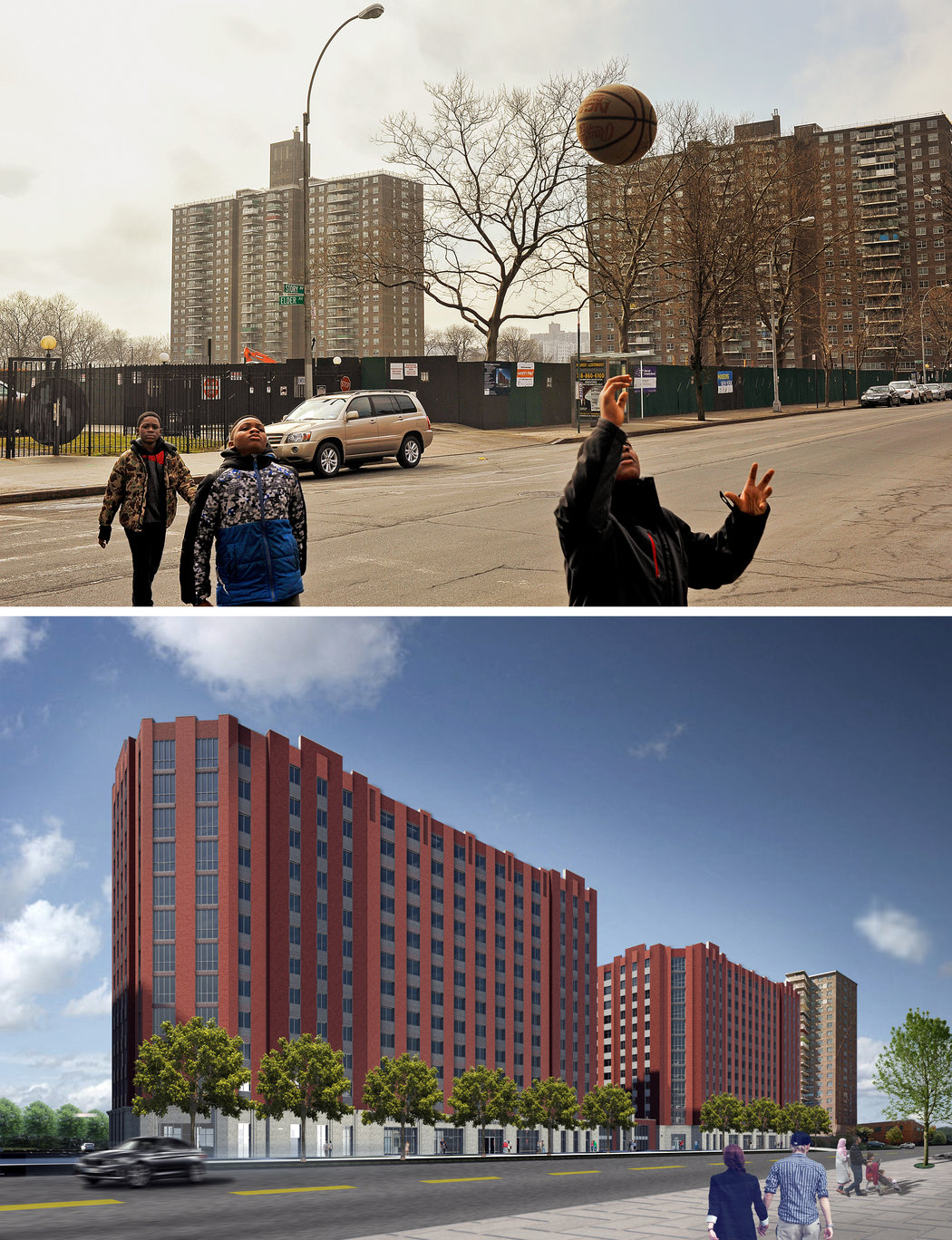 That potential isn't lost on some of the city's brand-name developers, which despite having been in the Bronx for decades in some cases, are these days tackling larger and showier projects.
Market forces, naturally, are driving the shift. City-owned sites, once the lifeblood of affordable housing development, have become practically nonexistent in much of Manhattan and Brooklyn, according to developers. And outside of the Bronx, market-rate land can be prohibitively priced.
Also, they add, stricter financing rules since the last recession have meant that large developers, usually for-profit companies, are being tapped to team up with local nonprofits, which need the developers' deep pockets to get deals done.
More immediately, as condo prices dip in more affluent areas, the city's major developers can seem to be casting about, looking for things to build, said Jeff Levine, the chairman of Douglaston Development, which has been active in the Bronx since 1987 but whose latest project, the 425-unit Crossroads Plaza, is by far its largest. Douglaston has also built high-rise towers in Manhattan and along the waterfront in Williamsburg, Brooklyn.
"Affordable housing may have relatively modest rewards, but it also has modest risks," Mr. Levine said. "And that's a good place to be sometimes."
If apartments are sprouting in unlikely places, none may be more striking than the corner of Spofford Avenue and Tiffany Street in the Hunts Point neighborhood, home for years to the Spofford Juvenile Center, a detention complex that was shut down in 2011 over concerns about inmate fights, rats and a lack of air-conditioning.
After the white-brick facility is razed, it will be replaced by the Peninsula: five buildings with 740 units of affordable housing as well as a film studio, a bakery, a brewery and 21,000 square feet of stores tucked around more than an acre of public space.
"I felt so good when I heard, so good," said Leon Cox, 34, who was once incarcerated at Spofford for throwing rocks at trucks on the nearby Bruckner Expressway. "The place was like a revolving door for kids."
If the Peninsula can change the vibe of Hunts Point, which has suffered from crime and rumbles with truck traffic, Mr. Cox strongly supports it, he said, adding that he would like to someday relocate into one of the Peninsula's apartments with his wife and two children.
The $300 million project, which is being developed by Gilbane Development Company, Hudson Companies and Mutual Housing Association of New York and was designed by WXY Studio and Body Lawson Associates, can't break ground until the site receives rezoning approval.
That process is expected to go smoothly, as the Peninsula enjoys widespread community support, said Maria Torres, a co-founder of the Point Community Development Corporation, a group working to revitalize Hunts Point that has teamed up with the Peninsula's developers.
As excited as she is to improve Hunts Point, where three parks have opened in recent years and a Metro-North Railroad stop is planned as well, she is also wary of big-ticket investment, echoing a sentiment from other long-term residents. "It's like a Catch-22," Ms. Torres said. "We're excited all these changes are happening. But with them will come a lot of people who will take advantage."
Providing shelter for current residents may be important, but the Bronx is also grappling with growth. In 2015, it had 1.46 million residents, according to census figures, up from 1.39 million in 2010 and 1.2 million in 1990.
And despite a reputation for grittiness, the South Bronx is filling up, too. From 2000 to 2010, the population increased in 19 of the 22 census tracts in Bronx Community Board 1, with some neighborhoods seeing double-digit spikes.
On the supply side in the South Bronx, more than 5,000 affordable apartments are being developed or planned, according to estimates from developers, real estate brokers and city officials, including the city's department of Housing and Preservation Development, which helps finance affordable projects and award city-owned land.
At the same time, the Bronx remains New York's poorest borough. In 2013, according to census records, about 27 percent of the population in the Bronx was living below the poverty level, which that year was about $24,000 for a family of four, versus about 20 percent in Brooklyn, which was next on the list.
Looked at another way, more than half of renters in the Bronx spend more than 30 percent of their income on housing, an unsustainable level, Ms. Lamberg said.
To encourage developers to build affordable housing and defray construction costs, the city has practically given away land in certain parts of the city, suspended property taxes for decades at a time and offered public money in the form of tax-exempt bonds and low-interest loans.
When a project's status as affordable housing expires decades down the road, some units could be converted to market-rate housing, though the city is increasingly mandating that apartments stay affordable for longer periods of time.
Whatever the motivation, the competition for sites in the South Bronx, where land prices have climbed after years of stagnation, is fierce, developers say.
For instance, for the chance to redevelop 425 Grand Concourse, where the empty and crumbling Public School 31 stood for years, the city received 13 proposals. The selected plan, from Trinity Financial and MBD Community Housing Corporation, calls for the construction of a 28-story, 289-unit tower with a supermarket, medical facility and charter school. The site still requires rezoning, but a closing is expected later this year.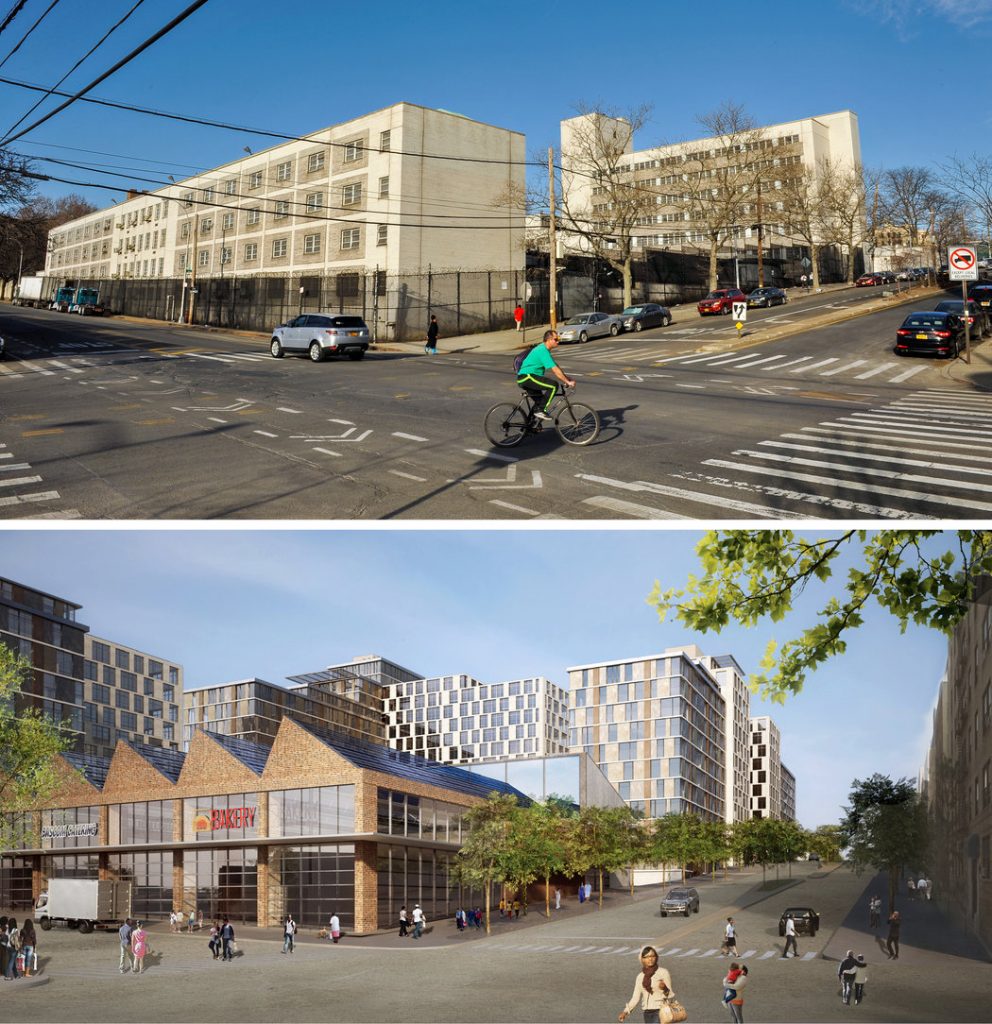 Similarly, the competition to build housing at a multi-lot site in the Hub, a Times Square-like store-filled intersection in the Melrose neighborhood, drew seven submissions. The winning bid was La Central, a five-building, 992-unit mixed-use project at Westchester and Brook Avenues.
Featuring a 50,000-square-foot Y.M.C.A. that will be only the second one in the Bronx, La Central will also have a rooftop telescope for a local school, a rooftop farm and a skate park, along with 45,000 square feet of new stores, including a sit-down restaurant in an area where there are few.
Approved in the fall, the $450 million project, which is still hammering out its public financing package, is expected to open its first phase in 2019.
"Proposals have gotten so much more interesting," said Aaron Koffman, a principal at Hudson Companies, which is developing the site with the BRP Companies, ELH-TKC, Breaking Ground and Comunilife. "It's no longer just housing with retail on the ground floor and a community partner." Hudson also has projects in Brooklyn neighborhoods including Brooklyn Heights, Gowanus and Prospect Lefferts Gardens.
Mayor Bill de Blasio has made reducing housing costs a priority, and his mandatory inclusionary housing program, started last year, forces developers that benefit from a zoning change to make some housing permanently affordable.
All of the apartments at La Central, which sits on land rezoned last fall, will start out as affordable, before being potentially deregulated. But 35 percent of the units in one of the buildings, and 30 percent in three other buildings, will rent at below-market rates indefinitely, said Mr. Koffman, who was able to pay just $5 for almost four and a half acres of New York City property. If he breaks the rules, he must pay the city the appraised value of the land, which brokers estimate to be more than $12 million.
The current crop of new buildings depart stylistically from the public housing complexes built in the mid-20th century and the modest two-family rowhouses that went up in the South Bronx in the 1980s.
Elton Crossing, a 199-unit project rising at 432 East 162nd Street, at Elton Avenue in Melrose, on the site of a former factory, features a gently curved facade and solar panels on the roof to power hallway lights.
Its units, studios to three-bedrooms, will also feature green elements like low-flow toilets, LED light fixtures and nontoxic paints, said James Riso, a member of the Briarwood Organization, which is developing the project with Phipps Houses and CPC Resources. The building will have 8,600 square feet of stores.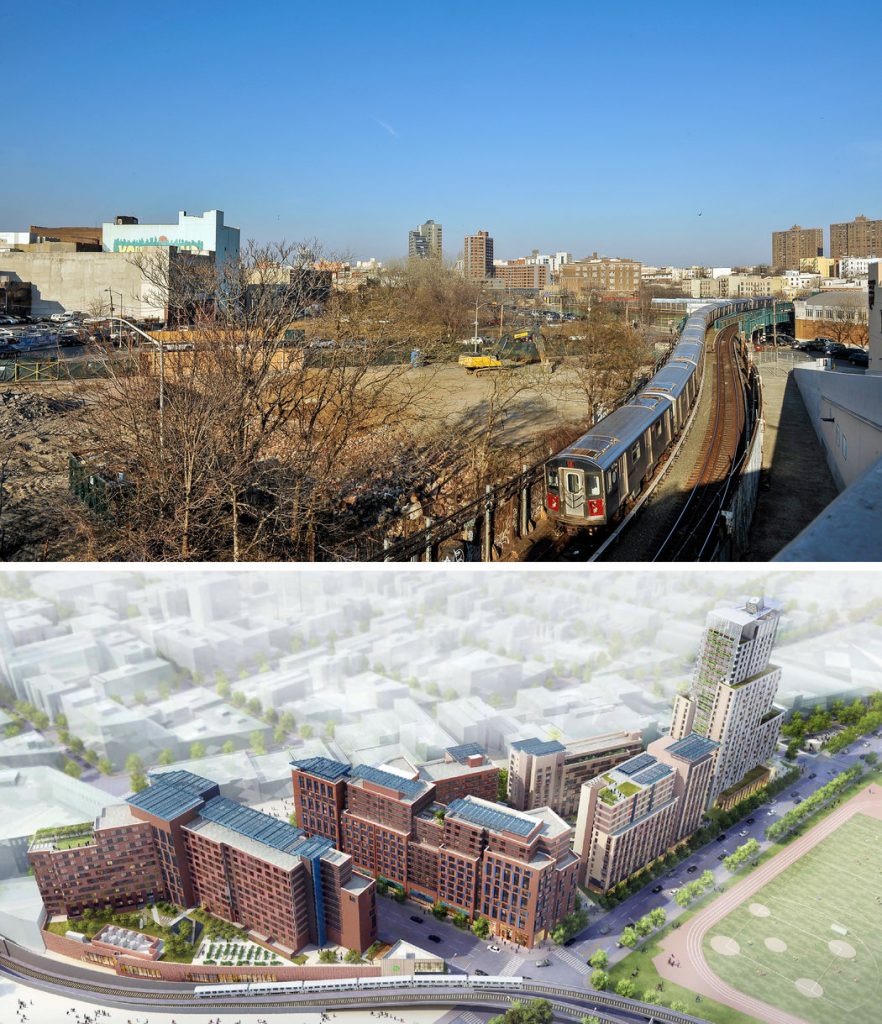 Similarly, next door at Bronx Commons, a 305-unit all-affordable building that broke ground in January at 443 East 162nd Street, apartments will have granite countertops and tile backsplashes that wouldn't be out of place in a luxury high-rise in Manhattan.
The building, which is being developed by BFC Partners and the Women's Housing and Economic Development Corporation, or Whedco, over abandoned railroad tracks, is also offering amenities that the public can enjoy, including the Bronx Music Hall, a 300-seat performance space.
Open space can be another benefit for those who live nearby.
In the Soundview section, for example, Nelson Management Group and L & M Development are at work on a pair of red-brick affordable towers at 1520 and 1530 Story Avenue with 435 apartments. Rising from former parking lots for the adjacent Lafayette Towers Nelson Apartments rent-stabilized rental complex, the $183 million rental development will offer studios to three-bedrooms, all with dishwashers, as well as nearly two acres of greenery, when the landscaped grounds are completed in 2019.
Lafayette Towers Nelson Apartments was built under the Mitchell-Lama tax-abatement program and continues to maintain rent and income caps through a regulatory agreement with the city. Nelson bought Lafayette Towers Nelson Apartments in 2011 and has spent $17 million to renovate lobbies and hallways in the 972-unit, four-building complex.
Robert. S. Nelson, president of Nelson Management, said he believes that all tenants, rich or poor, should have decent living conditions. "We like to provide a building environment that people are proud to call home," he said.
In Mott Haven, Douglaston Development is building Crossroads Plaza, a three-building, 425-unit complex on the site of a popular community garden, and will also create a landscaped 20,000-square-foot public plaza on Union Street, between East 149th Street and Southern Boulevard.
A $157 million project undertaken in phases, Crossroads opened its first 126-unit building at 535 Union Street in 2015. A second building, with 135 units at 501 Southern Boulevard, is to open this month, according to Mr. Levine, Douglaston's chairman, and a third, at 828 East 149th Street, by the end of the year.
As with much affordable housing, eligibility uses the area's median income, which was $90,600 for a family of four in 2016. At 828 East 149th Street, for example, apartments are reserved for those who earn between 50 percent and 100 percent of the median, or $45,300 to $90,600. Rents for studios will start at $788 a month, one-bedrooms, $847 a month, and two-bedrooms, $1,025 a month.
Though an income limit of 100 percent of the median was once considered unusually high, it is increasingly common in the South Bronx, which Mr. Levine said is a sign that the area is turning more middle-class. "These are the green shoots of how the Bronx will become more market-rate," he said.
Of course, what's good for landlords is not always good for renters, and some in the Bronx say they are already feeling squeezed. They include Janice Lynch, 68, who was evicted in 2015 after missing some rent payments and then essentially became homeless, staying on relatives' couches.
All the housing she looked at, despite being listed as affordable, was more than her $900-a-month budget, she said.
Last year, though, Ms. Lynch, who is H.I.V. positive, found a studio at 1191 Boston Road, a new building in Morrisania with a checkered red, blue and yellow facade. Its developer is Breaking Ground, a nonprofit connected with the La Central project that specializes in supportive housing, which offers social workers and an on-site nurse.
The apartment costs $550 a month after a city subsidy and offers views as far as the Whitestone Bridge, and also of buildings popping up around Ms. Lynch, for better or worse. "We have an explosion of people who are homeless or just can't afford the rent where they're living," she said. "Buildings like mine are needed."
---
A version of this article appears in print on March 5, 2017, on Page RE1 of the New York edition with the headline: The Bronx Is Building. Order Reprints| Today's Paper|Subscribe