From Washington Heights to Forest Hills: Landing a quieter, safer place for her daughter's sake
By: KELLY KRETH • [BRICKUNDERGROUND] – May 19, 2021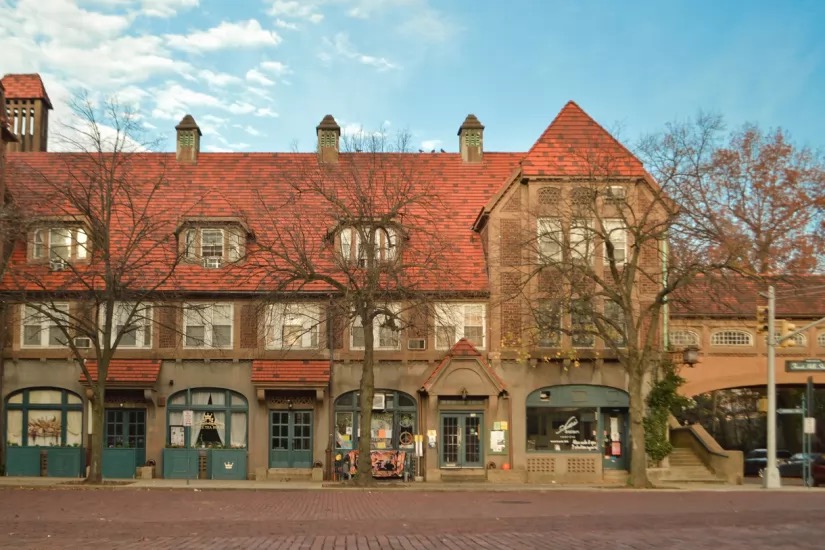 With her daughter attending high school in Midtown Manhattan, native New Yorker Lisa Lugo decided to make a move from Washington Heights. Her priority was finding a place where her 15-year-old could safely gain some independence and have a better commute. They landed in Forest Hills—and are enjoying the amenities of their new building and getting to know their new neighborhood. Here's her story.
I grew up in Washington Heights and lived there most of my life. However, for the last 10 years, I lived in Bayside. I always planned on leaving Bayside if my daughter when my daughter was accepted to a high school in the Manhattan, which she was. I moved back to Washington Heights with my daughter—we lived on 171st Street, between St. Nicholas and Audubon avenues from July 2018 to July 2020, primarily to be closer to my elderly mom.
Washington Heights is mostly Hispanic and very busy (definitely overcrowded in some areas). The apartment was a front-facing, two bedroom on the third floor of a walkup building. There weren't any amenities: Just a buzzer to enter the building and no laundry in the building. Rent was around $2,100. There was a great deal of noise all the time and a lack of diversity.
I did love that we were only three blocks to the subway—it made for an easy commute. It was just 30 minutes door-to-door on a single subway to get to my job as a project coordinator for a management consulting firm in Manhattan.
I also liked being close to Columbia Presbyterian Hospital and many pharmacies. I also loved being close to the Cloisters and we visited whenever we could for the beautiful views of the Hudson.
There were great, mostly Latin restaurants nearby that I enjoyed. The Dominican dishes at El Malecon are delicious. The pasta dishes at Saggio taste authentically Italian and Dallas BBQ brings the best of BBQ and margaritas to The Heights!
During the pandemic in the spring/summer of 2020, I began looking for a new place. I wanted to remain close to the subway so my daughter could commute easily to school. I wanted access to buses, shopping areas and good restaurants. I also focused on neighborhoods with cultural diversity. As for the building and apartment, I wanted more amenities and was hoping for an in-building super and friendly building staff, elevator, and a laundry room.
I was familiar with Forest Hills—I have friends there, and in Rego Park as well, so my first thought was to canvas the Forest Hills area and I loved it right away. It was close to the everything I desired. The apartments buildings have character: Large, decorated lobbies, doorman, larger-apartments and many with high ceilings! I think the rents were competitive— especially during the pandemic—so the rent did not factor greatly into my decision.
The driving force behind the move was quality of life and providing my daughter with the opportunity to feel pretty safe while spreading her wings to gain independence. As a young teen of 15, this was very important to both of us. She attends the High School of Art & Design on 56th Street and Lexington Avenue in Manhattan, where she is a photography major.
I did not want to pay more than $1,800 and was looking for a studio. I was working remotely and feeling uncertain about whether the company I work for would have to downsize, I did not want to overreach. Had that not been the case, I would have explored one- and two-bedroom options.
I researched apartments online via apartments.com and leasebreak.com and did not want to pay a broker fee or interview with a board for approval.
I found a listing on apartments.com and sent an email asking to schedule a viewing. Kunal Khemlani, an agent at Living New York, called me back right away. He was knowledgeable, patient, approachable, honest, helpful and friendly. Kunal was very efficient with getting me the application and making sure I understood the process.
I ended up in a front-facing studio on the fourth floor of a six-story, 1943 building. It gets excellent natural light and has a dishwasher. The layout is functional, with three closets and a separate dining alcove, which is rare for a studio. It checks all the boxes with two elevators, a laundry room on the lobby level, a live-in super, and a private parking garage.
I am paying $1,800 a month. The original rent was $1,850 but Kunal was able to negotiate it down and lock it in for two years.
We made the move in August and we couldn't be happier. Forest Hills is a perfect fit. I gained an apartment in a well-maintained building in a safe, relatively quiet neighborhood. And I never have to go out to do laundry again!
Moving also meant an easier commute for my daughter, since the E or the M train is only three blocks away. She's loving it.
I like the area on a whole way better than Washington Heights—although the thing I truly miss is quick access to the best Spanish food in NYC! But the diversity is greater here.
Asian Fortune is a hidden gem for Thai food as far as I'm concerned. Mojo offers Cuban fusion—great food, delicious drinks. And Bareburger offers great burgers and American fare. The shops at Austin Street, Target, Sephora, and Bath & Body Works are so convenient.
While family and friends have visited and all love my new nabe, it has been somewhat difficult to make new friends during the pandemic. But I have joined some online groups, which allowed me to meet new people in the area safely. Everyone speaks of Forest Hills so positively and I can't help but agree.
Honestly, there are not many drawbacks. Probably the most impactful drawback is the distance to a good hospital. I was four blocks from Columbia Presbyterian Hospital, which is a highly reputable hospital. In Forest Heights, the closest place to go in an emergency is an urgent care center two blocks away. Overall, though, Forest Hills is simply a better location for us.
I will stay here until my daughter graduates from college and I can retire (about 10 years). I can't see myself living in a cold climate as I get older. I need more sunshine! However, my daughter will most likely stay for a while because she intends to attend Pratt or Parsons for a degree in photography and is a die-hard New Yorker.